We all have them, late nights – early mornings, the occasional blemish, sunburn, rosasea, dull skin…. This is why colour correcting is a must for people with any type of pigmentation problem. It's no secret that the concealer game has been taken up a notch, with lots of brands now coming out with concealor palette wheels with all types of colours, it can be confusing and probably a little excessive to have the whole range of colours unless you are a working makeup artist. This is because each shade can target very specific issues, though just because you use one shade of corrector doesn't mean you cannot use another to do a different job. So…keep reading to see how using colour correcting can be a complete game changer in your makeup routine.
The Color Wheel: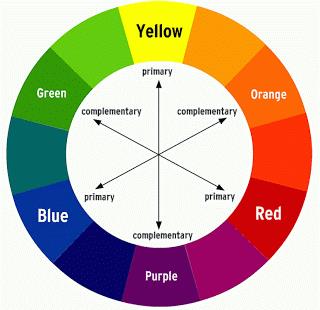 Did you pay attention in art class? I mean, I don't actually remember learning this either – so here's a quick overview: have a look at the coloour wheel above, as you can see there are various primary colours which have "complementary" colours associated with them. This works in two ways with regards to makeup application.
1. Helps to identify which eye makeup colours should be used to complement eye colours (I will do a separate blog about this with examples).
2. Helps to identify colours which will neautralise specific problem areas on the skin.
The second point is what I am focusing on in this article.
Probably one of the best parts of being a makeup artist, is being able to make skin look flawless, and like skin! As we all know, there are many hues, undertones and tints in every skintone, each one is unique. Therefore the use of colour correctors is essential is ensuring that if there are areas of discoloration on the skin, instead of using an extremely heavy base, you can neautralise the colour and therefore get more of a natural and realistic finish.
The more product you put on your skin, the more added texture you are creating – thus more opportunity for caking and creasing, this is why concealer alone may not always be sufficient. If the skin problem is very extreme, such as black under-eye circles on deeper skin tones, applying a concealor straight away can look unnatural, ashy and come across grey.
In cosmetic colour theory two complementary colors (red and green, blue and orange, and purple and yellow) cancel one another out and neutralize when combined. For those with ruddy cheeks, sallow skin, or dark circles, it's a makeup miracle. Keep reading to see exactly which corrector may be good for you, as well as product recommendations.
Yellow concealers are great for generally evening out your skin tone to give you a brighter base. Typically yellow toned concealers are perfect for hiding purple and blueish tones in the skin such as veins, bruises, and under eye circles on fairer skin tones. They can also be used on eyelids of yellow / olive based skin tones as a great eyeshadow base.
Try these: Benefit Cosmetics Lemon Aid Concealer, Mac Paint Pot: Soft Ochre, Bobbi Brown Creamy Concealer Kit

Green is on the opposite side of red on the colour spectrum, hence it is a great colour to neutralise any redness of the face, dot and buff this over red acne marks, fresh blemishes, pink under your eyes, etc. If you suffer from redness all over the face, for example rosacea, sunburn, extreme acne, then I would suggest using a green-toned colour correcting primer first before applying your base. As this will give you more widespread coverage to achieve a flawless neutralisation all over.
Try these: Mac Cosmetics Colour corrector in Green, Makeup Forever Green HD Primer.

People with very light yellow toned skin may find that they sometimes appear pasty, with a dull yellow complexion, purple is probably the least used of the colour corrector tones, but it can really add a glow to sallow looking skin. You're more likely to have all over yellow / orange tones so an all over purple toned primer would work best. If you have patches of yellow / orangey skin then try a purple toned spot conealor.
Try these: MakeupForever HD Primer
Pink concealers are going to work best on light to medium skintones - particularly if you have an overly olive or yellow skin tone. These are ideal to give an overall brighter complexion to tired and dull looking skin. Great for covering yellow and mild greenish hues.
Consider These: Benefit Cosmetics Erase Paste / Bobbi Brown Corrector / DIOR Skinflash Radiance Booster Pen
L'Oréal Studio Secrets Professional Color Correcting Primers Anti-Dull Skin Primer; Giorgio Armani Master Corrector Concealer in Pink
Orange Concealers:
This colour is perfect for deeper skintones that have a lot of dark purple / blue discolouration. Being of Indian descent, I suffer from very dark eye circles as well as darker pigmentation around the mouth area. An orange toned concealer will help to brighten up these problem areas and enable you to apply foundation or concealer over it without it looking grey or ashy.
Consider These: Smashbox Photo Finish Color Correcting Primer in Apricot / Laura Mercier Under Eye Perfecter / Giorgio Armani Master Corrector in Orange